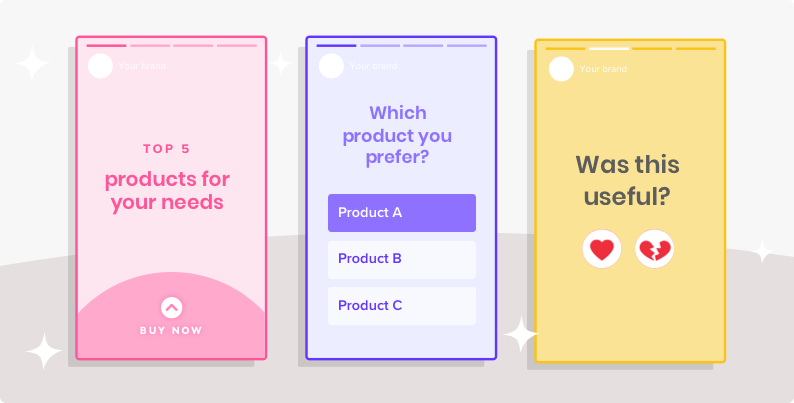 As you begin your Apester journey you will, with time and our analytics tool, have a better understanding of what is super-engaging and what's not so much. You'll see for yourself which type of image generates better engagement, what your audience reacts to and what wording to use for each type of question.
But.
We want you to hit the ground running and immediately make the most of your Apester content, so we've put together a list of tips that can help you get started with confidence.
Tip: read the tips below
There are so many different ways to use Apester's engagement tools and they can produce massive value, but we simply can't fit all of them in less than 300 words. Believe us, we tried :(
So, just a quick taster:
Engagement toolkit - remember your options: create stories, polls, quizzes, personality tests, galleries, video polls/quizzes and more. Check out our short tutorial videos.
30 seconds - is the time to create a simple one-question poll. It's super fast and generates instant engagement. Make it your go-to and let it work for you.
Mix layouts and explore all features - for example: use gifs instead of still images for higher engagement
Use Apester on a regular basis - the Apester effect is a cumulative one.

Don't get discouraged by one slow interaction.

Create evergreen content - focus on Apester content you can reuse again and again i.e. "How much do you know about Apple?".
More slides = better Time on Page - each engaged user adds 10 seconds to your dwell time (so 10-slide quiz = 100 seconds and so on).
Generate leads

- use our lead generation slide to collect quality leads and boost your mailing list.

Super-flexible Story tool (and Story strip)

- use images, gifs, videos, swipe-up feature, lead generation slide, quiz, poll, interactions icons and we can go on. Try it for yourself!

Use our analytics tool -

learn more about what's working and what's not.



Don't be afraid to A/B test

- to understand what your audience reacts to -> implement -> produce better results -> repeat.
Need some more answers, inspiration or advice? Contact us, or else login and start creating amazing, engaging and effective content.
Good luck!